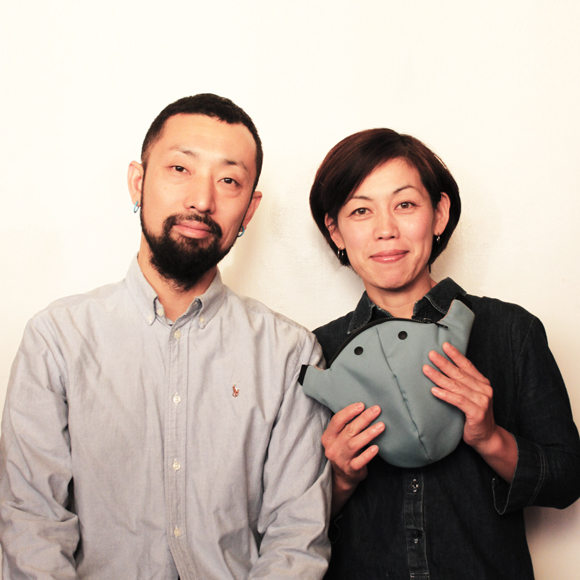 Seto is a design label created by Keita and Naoyo Seto, a husband wife team . We started as "9brand" on September 9, 1999. And we changed label's name to our first name in 2008.
Working from the idea that we can all learn from living things,we have created a line of products which mimic shapes, patterns and functions found in nature. Our product line includes bags mimicking living thing, educational toys, interior products, graphic designs, and so on. And we also create shapeless works like "Hands figure"which shows that our hands are an art in itself. Additionally, Through our works, the ideas are always derived from animism.
Seto products are available through the online store (only for Japan), at our studio & shop in Kamakura city, close to Tokyo, or several dealers.
Also, we create designs with other companies to extend our thought .

Keita Seto(1972¡Á)

Born in Tokyo. Spent a short time in the United States in childood.
Love creatures. Love Kung fu and Karate which adopt the movement of creatures.
Always draw pictures with a black marker or with straight lines.
Sometimes play hand flute like a bird.

Naoyo Seto(1973¡Á)

Born in Nagoya. Love handicrafts and sawing.
Sense of sawing is from mother and grand mother.
Love pure literature. Sometimes bake bread.
Sometimes practice Karate and Taichi.

Seto
mail¡§kn@setodesign.jp
1-4-12 Inamuragasaki Kamakura-city, 248-0024, Japan
tel+fax:+81-(0)467-22-3441
(Sorry, we are not a good English speaker.)
Foot print
1999.9.9
Start small shop"9brand" in Tokyo.
2001
"Tigger Camoflage": Join "D_100", the 100 years of celebration of Walt Disney
2002
"Pranalia Duster": the remakable Tee shirt for Muji
"Mino-case"; presented at the exhibit of Nike Japan, "RECONSTRUCT"
Keita did several works for LEGO as a free-lance designer.(2002¡±2003)
2003
"M.O.C system for disney"; presented at "dlab Tokyo" of Walt Disney
"Furoshiki" is selected for the one of "100 of Japanese Design" by Japan Foundation
Prize: "M.O.C system" got Good Design Awards.
2005
"Crittermask": the masks of creatures for Global Village, Expo 2005 Aichi Japan
Published "Crittercard"
2006
Released the series of "dapipa"
Exhibit: "Emergence" (at tortoise, Los Angels)
2007
Moved to Kamakura city
2008
"Yamori magnet" are selected as Neaf's collection.
We changed our name from "9brand" to"Seto".
MoMA store started to sell our "M.O.C system"
2009
Start graphic works for the Yokohama ZOO.
Poster of a Gaur